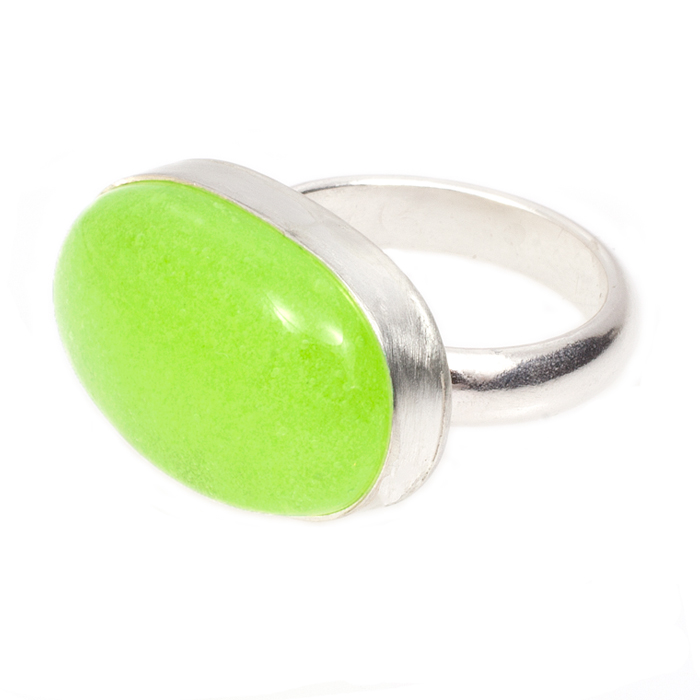 Sweetie Midori
The Sweetie ring is so exciting to wear in this fresh, saturated lime green hue. The style of the Sweetie is great for those who like their rings just a little less chunky, while still making a statement. It measures about 14/16 of an inch wide, and 8/16 of an inch tall.
Color- Midori
Each piece of glass in these rings is individually handmade — no two will be exactly alike. All settings are sterling silver. The glass is as hard as or harder than many stones, so breakage is not a concern with normal wear.
Slight differences in color and shape from the pictures are normal, and an intrinsic part of the nature of artisan made glass. All measurements are approximate due to the hand carving process, with every effort taken to ensure the glass is as close as possible to the quoted size.
RING SIZING
Please have the finger on which you intend to wear your ring professionally sized at any jewelry or department store. Ask the jeweler to measure you with a thin set of sizing bands.
Note that the fit of a ring will vary from day to day due to many factors, including even small weight changes, sodium content of diet, and weather. Rings cannot be resized.
All rings are made to order, so please allow 2-3 weeks for shipping. Please contact us to arrange a rush order if necessary.
To prevent tarnish, store your ring in a sealed plastic bag when not wearing.